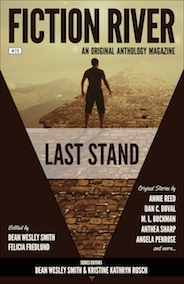 Volume 20: Last Stand
Edited by Dean Wesley Smith & Felicia Fredlund
History offers many heroic tales of final battles. And in Last Stand, sixteen courageous authors offer their take on the topic. From a heartwarming tale of not-so-friendly business competition to a battle of the gods—sort of—for the fate of the world to a tale of looking for love in all the wrong places. These inventive stories make Last Stand one of the most creative—and memorable—Fiction River volumes yet.
This volume contains….
"The Great Ice Cream War of Grover's Hollow" by Annie Reed
"Slow Motion" by Eric Kent Edstrom
"Do Not Resuscitate" by Dory Crowe
"Sunset, Fall, Home" by Dan C. Duval
"'Til Death Do Us Part" by Kerrie L. Hughes & John Helfers
"Circle 'Round" by M. L. Buchman
"Unto the Ether" by M. E. Owen
"Bury My Son at Home" by Angela Penrose
"The Flare" by Laura Ware
"What's Left of Me" by Bonnie Elizabeth
"The Counter" by Rob Vagle
"The Toymaker of Kelsium Rye" by Chuck Heintzelman
"Magic and Sacrifice" by Felicia Fredlund
"Lady Elizabeth's Betrothal Ball" by Anthea Sharp
"Suppose They Gave a Ragnarok and Nobody Came?" by Lee Allred
"Death Bunnies of Toxic Island" by Travis Heermann